Contact Us
Address:
Jewellery Repairs London
Hirschfelds Ltd
7 Bleeding Heart Yard
(off Greville Street)
Hatton Garden
London
EC1N 8SJ
info@jewellery-repairs-london.co.uk

Our Offices and London Jewellery Repairs Workshop are in 7 Bleeding Heart Yard London EC1N 8SJ +44 (0)20 7405 1536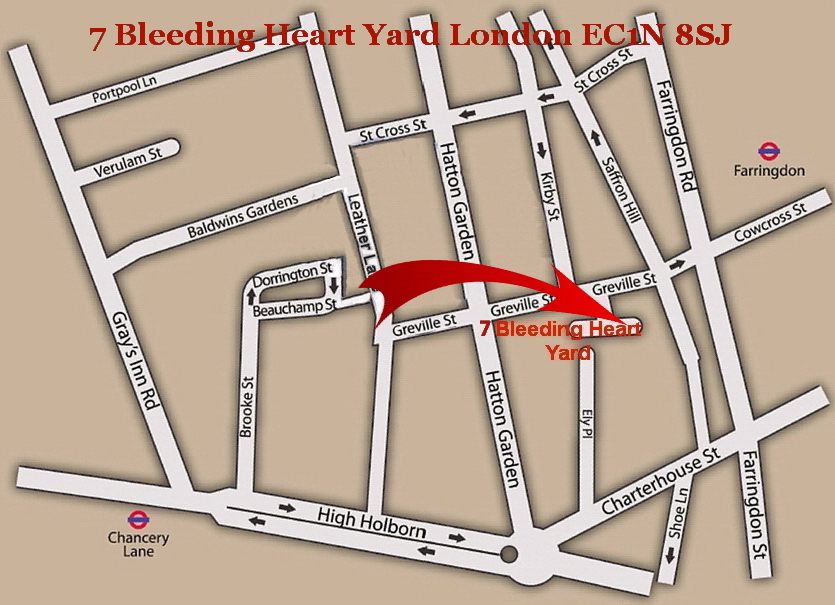 When you walk into Bleeding Heart Yard, No 7 is situated on the far left of the Yard next to the BLEEDING HEART BISTRO.
See below - Click to enlarge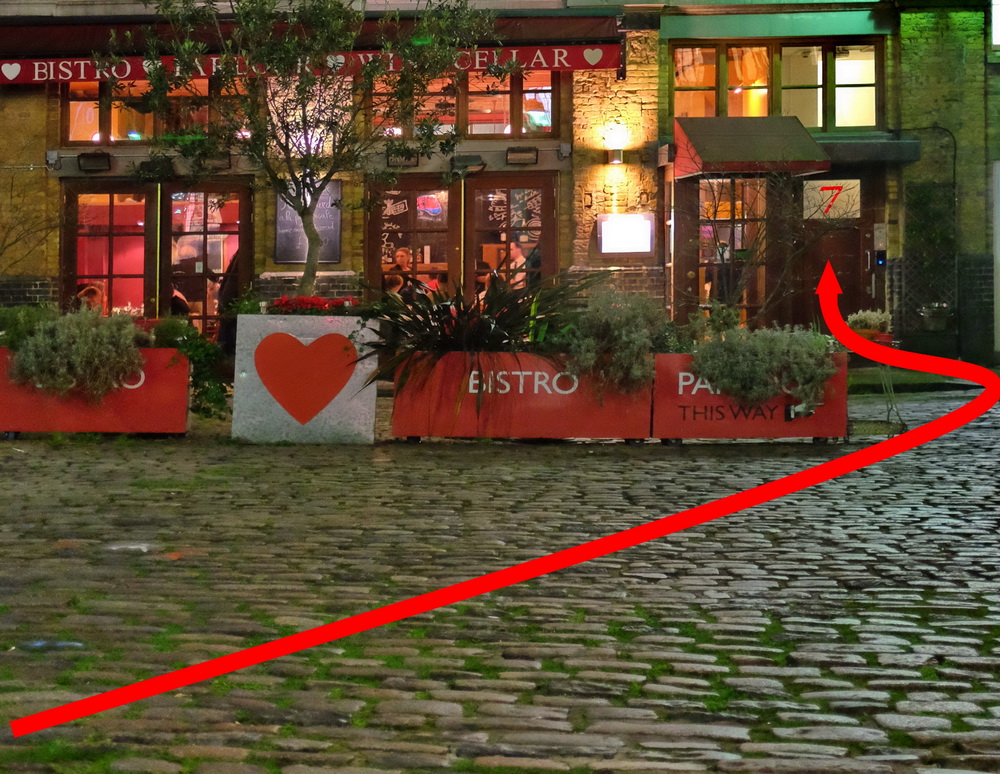 Telephone:
020 7405 1536
From abroad:
+ 44 20 7405 1536
Text only: (No incoming calls)
+44 (0)7500 543651
E-mail:
info@jewellery-repairs-london.co.uk
Opening Times:
Our Jewellery Workshop is open for incoming business for all jewellery repairs and ring sizing etc.
Our Workshop is open from 11:00 am to 4:00 pm Monday to Friday. by Appointment only

All visits to our Office and Workshop are by "APPOINTMENT ONLY".

Please Telephone (Not e-mail) 020 7405 1536 to book your appointment for a jewellery repair or jewellery collection.
We also receive incoming Jewellery repairs and ring sizing by Post or Courier, too.
We are closed at Weekends and Bank Holidays.

We are not a traditional retail storefront!
You are welcome to visit our Jewellery Repairs Workshop when convenient. An appointment is necessary.
However, if you wish to pre-arrange a consultation please call us to have a personal appointment.
Please call to ask any questions about visiting our offices and workshop.
Directions - CLICK HERE- To find our Jewellery Workshop from Chancery Lane and Farringdon
Getting here and where to find Jewellery Repairs London at Hirschfelds- Click here for MAP
Click here for Google map For Jewellery Repair at Hirschfelds
Jewellery Repairs London at Hirschfelds.
Wholesale jewellery offices and jewellery workshop at Hatton Garden London.
We are easy to find when walking from Holborn (Mid Town) to St Paul's Cathedral.
We are close to historic Clerkenwell, Smithfield and St Pauls.
Near Farringdon Road & Kings Cross St Pancras - Home of the Eurostar.
Jewellery repairs are located in the heart of London's historic jewellery quarter of Hatton Garden close to Central London, The West End & The City of London, Angel, Bank, Baker Street, Barbican, Bloomsbury, Bond St, Broadgate, Camden Town, Cannon Street, Charing Cross, Cheapside, Clerkenwell, Covent Garden, Euston, Fenchurch Street, Holborn, Islington, Liverpool Street, London Bridge, Marble Arch, Monument, Oxford Street, Paddington, Piccadilly, Smithfield, Soho, Spitalfields, Tottenham Court, Victoria, Waterloo for Fine jewellery, Antique jewellery and for London Antique jewellery repairs - Click here
Close to EC1, EC2, EC3, EC4, W1, W2, WC1, WC2, N1, NW1, NW3,NW8, SW1, SE1, SE11, E1, E2.
Hatton Garden, is a unique district on the fringe of the City in central London, is located within the area bounded by Clerkenwell Road, Gray's Inn Road, Holborn and Farringdon Road. EC1 England UK.
Below - How to get to our Jewellery workshop at Hatton Garden in the heart of the London jewellery quarter and UK Diamond centre.
Plan your journey - Transport for London to Jewellery Repairs London EC1
The Hatton Garden area is well served by mainline and tube underground stations.
As well as 15 Bus routes,
Including Buses No's 8, 17, 19, 25, 38, 45, 46, 55, 63, 242, 243, 341, 521.

Finding us and getting to us by Bus.
Number 8 : Bow - Bethnal Green - Shoreditch - Bank - Holborn - Oxford Circus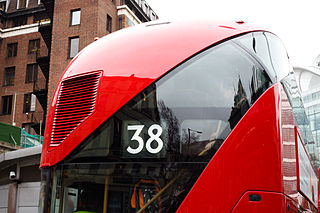 Number 17: Archway - Holloway - King's Cross - Holborn Circus - London Bridge
Number 19: Finsbury Park, Highbury, Islington, Bloomsbury, Tottenham Court Road Station, Piccadilly Circus, Hyde Park Corner, Knightsbridge, Sloane Square, Chelsea, Battersea Bridge
Number 25: Ilford - Manor Park - Stratford - Bow - Aldgate - Bank - Holborn - Oxford Circus
Number 38: Victoria, Hyde Park Corner, Piccadilly Circus, Tottenham Court Road Station, Bloomsbury, Islington, Dalston, Hackney, Clapton Pond
Route 45: Clapham Park - Brixton - Camberwell - Elephant & Castle - Blackfriars - King's Cross
Route 46: Lancaster Gate - Paddington - Hampstead - Camden Town - King's Cross - Farringdon Street
Route 55: Leyton - Hackney - Shoreditch - Holborn - Oxford Circus
Route 63: Honor Oak - Peckham - Elephant & Castle - Ludgate Circus - King's Cross
Route 242: Homerton Hospital - Hackney - Dalston - Bank - Holborn - Tottenham Court Road Station
Route 243 Wood Green - Tottenham - Stamford Hill - Dalston - Shoreditch - Holborn - Waterloo
Route 341: Lea Valley - Tottenham - Manor House - Islington - Holborn - County Hall
Route 521: Waterloo - Holborn - St Paul's - Cannon Street - London Bridge
Click here for a London BUS map
Finding us and getting to us by Tube. London Underground & Train

Our closest London Underground Tube station is Farringdon (Metropolitan, Circle, Hammersmith & City). Or Chancery Lane (Central) or Holborn (Central, Piccadilly).

By Train: Farringdon (City Thames Link, Thameslink railway Southern Railway, Elizabeth Line (Crossrail)
For up-to-date 24-hour London travel information contact: visit TFL www.tfl.gov.uk web site or phone Transport For London: 020 7222 1234
Click here for Transport for London journey planner
Click here for "Street Map" for Jewellery Repair at Hirschfelds



Trainline is Europe's leading train and coach app. Trainline work with 270 rail and coach companies to offer customers travel to thousands of destinations in and across 45 countries in Europe. The Trainline aim is to bring together all rail, coach, and other travel services into one simple experience so people can get the best prices and smart, real-time travel info on the go.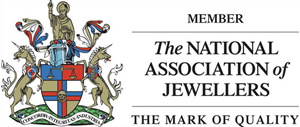 We are members of the National Association of Jewellers.
As per the NAJ code of Practice: Any uncollected jewellery repairs will be disposed of after 6 months.
Our Hatton Garden Workshop