Jewellery Remodelling & Design London
Remodelling Jewellery, remodel Rings Re-styling your jewellery London UK
We have some of the country's most talented and experienced jewellery craftsmen and goldsmiths and silversmiths. Jewellery hand made in our Hatton Garden Workshop is handcrafted to exacting standards of quality. This ensures that every piece of jewellery is individual and remarkable. Each ring or jewel is intricate and requires many hours of labour to complete. With many years of training and extraordinary levels of skill, our master craftsmen are able to create fine settings.
Re-designing jewellery. Resetting diamond rings. We specialise in re-making old pieces of jewellery, old diamonds and old gemstones that are no longer worn. Give your old jewellery a new lease of life. Remodel your old jewellery. We can create or re-style your used jewellery or unwanted jewellery into something new and outstanding. Bring in your own design. There are many options when re-styling rings or jewellery.
Recreate the worn jewel into a different style of jewellery. Remodelling is embraced when a precious treasure has been inherited and is not stylish. This may involve a completely new creation incorporating original gems.
Additional gemstones or metal can be supplied in the remaking part of the jewel.
The whole process is carried out by our goldsmiths in our workshop.
It may be possible to use the existing metal to make a new piece of jewellery.
We can melt down the metal, the gold, the platinum and remake an item of jewellery or ring by hand. We may be able to cast a new piece, using the original metal (gold or platinum) and add to add metal when casting. We can use some of the components of an original piece, within the new design. A new jewel can be complemented with extra gemstones, giving extra vibrancy.
We can completely remake a new piece of jewellery created from your Beautiful gems.
We can transform unwanted jewellery into gorgeous, statement jewellery pieces, by using the gemstones in more sensitive or spectacular ways.
Re-create your Jewellery; recycle jewellery that has gone past the point of restoration. Maybe the jewel is damaged beyond repair or a family piece needs to be modernised to suit your taste. Remodel a family heirloom ring into an engagement ring or remodelling a wedding ring or wedding band.
Remodelling your jewellery, remaking your ring into a different style allows you to re-captivate the sentimental value of the adornment. Duplicate reproductions are possible. We're able to create almost close replicas of treasured items, giving a lifetime's wear all over again. Gem Stones from the original jewellery can be reset into new items.
Gemstones that are badly scratched can be re-polished.
Remounting a diamond ring is a perfect way to preserve a special ring. Update the look of an engagement ring or preserve an engagement diamond in a new ring design. Remount a diamond into a new mount.
We can re-use the original gemstones such as an old brooch to create new pieces of jewellery
We remodel & remount all styles of rings, earrings and pendants in precious metals including 18ct carat of gold, white gold and platinum.
Re-create or reproduce a replica of a lost or missing earring.

Jewellery handmade to create the best possible match and re-create any style of ring or setting.
We manufacture jewellery from specific drawings and artwork. Our Hatton Garden Jewellery workshop has been hand-making bespoke jewellery since 1875
Resetting Diamonds from Antique Diamond Rings.
Diamond rings are often handed down from one generation to the next. However, their settings generally need to be repaired or replaced or do not suit the current style at all. Resetting a diamond, resetting an old cut diamond or old diamond ring is a very personal decision since the diamond ring may have been given to you by your mother, grandmother or aunt, or purchased in an auction sale or antique shop.
Have you inherited a diamond ring and do not like the setting? It could be that your aunt has left you a family heirloom or perhaps grandma left you her own engagement ring to use when you get married. A diamond can be reset to a different setting. A yellow gold setting can be changed to platinum or white gold. This would make the diamond look more dazzling and white. The setting and even the diamond itself may have endured wear and tear. A diamond with a chipped girdle can be repolished and ret into a rub-over setting instead of a claw. The claws setting on the old mount may no longer be sufficiently strong and secure to hold the diamond safely.
Vintage jewellery is extremely popular and every vintage diamond ring is a jewellery item worth preserving. If you really do not like the style or design of the ring, resetting the stones in a new, more fashionable setting may sometimes be a better option. The process involves removing any stones from the setting, removing and replacing the old claws and then resetting the stones. Resetting stones in rings: Reuse the diamond from an old engagement ring, we reset the diamonds from wedding rings into pendants and rings.
Jewellery remaking London. Remodelling of old jewellery alterations 18ct gold re-modelling. Remodelling Platinum, Gold, silver and Palladium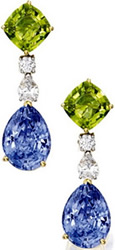 We manufacture contemporary jewellery in our workshop with our historic British expertise and quality.
We hand make bespoke Jewelry in Precious metals such as platinum and eighteen-carat gold
We re-work an older jewellery piece into contemporary jewellery. Jewellery tastes can vary through the generations.
Our methods of working and design experience give you a great deal of choice.
Since 1875 we understand the importance of sentimental value.
We care about the significance of jewellery given by loved ones or inherited from previous generations. Restyling can sensitively give your jewellery a new lease of life.
A simple alteration is a great way of preserving sentimental value, allowing one to wear a piece of jewellery that suits. Sentimental value is unlimited. Our service offers expertise and care.
Remodelling diamond engagement rings.
Whatever you decide to do, you can be rest assured that we shall create something that suits your requirement because family jewellery is sentimental and precious in value too
You can be confident of our personal service and our high standard of workmanship. We thoroughly assess all your requirements. Your designs are discussed before we proceed with remodelling any piece of jewellery.
Our London jewellery design workshop Hatton Garden opening times:
We are open Monday to Friday
We are closed at Weekends and Bank Holidays.
Hirschfelds - Fine jewellery since 1875

Our Hatton Garden Workshop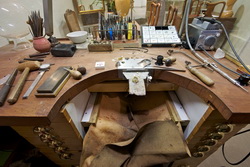 Our Lapidary polisher polishing gemstones London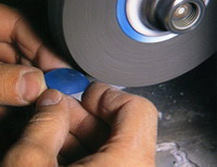 Kodachrome Vintage Photos
Before & After Jewellery Repairs: