Jewellery Enamelling Repair London
Jewellery Enamel Repairs London Enamel repair restoration services and Jewellery Enamel repair:
Enamel is very decorative when it is applied to jewellery. From transparent, to opaque, to cloisonné, to plique-à-jour, to guillachiere enamel, to painted enamels.
Many pieces of fine jewellery own their grace to enamel work. Enamel use has never been limited to jewellery, and it has been used to decorate other objects, such as brooches, boxes, lighters, lockets, pens, plaques, clock faces and many other items.
Unfortunately, even though enamel seems to be strong and durable, it is indeed fragile. It can chip easily, and the damages to enamelled items are highly visible.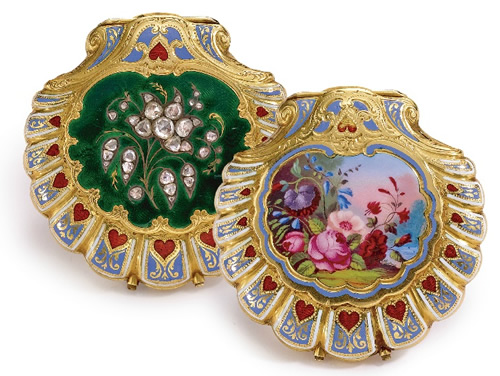 We have developed proprietary techniques to restore the damaged areas of jewellery etc, while preserving as much of the original enamel as possible.
We restore damaged works of art , ranging from jewellery to boxes and to any other type of enamelled artwork. We restore not only one colour pieces, but also our experienced artists can recreate the painted enamel designs. Enamelling antique jewellery. enamelling antique rings. Enamelling vintage jewellery and objets. Repair chipped enamel rings. Cold enamel repair London.
In order to preserve the original work, we also use "cold method" technique, which means that we do not re-fire the object because refiring can cause further damages to the original enamel.
Using proprietary technology and advanced materials, we restore enamelled works to perfection.
Enamel repair London Jewellery enamelling & jewellery re-enamelling London. Ring enamelling and ring re-enameling. Enamelling Repairs and Enamel History!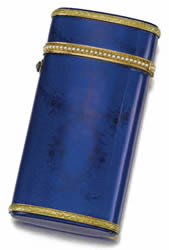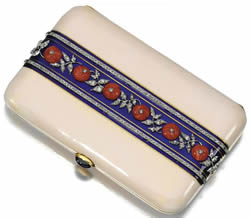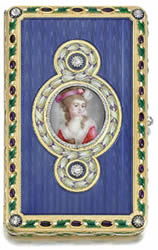 If you need your enamel jewellery repairing or enamel jewellery restoring but you do not have time to take it to your local jewellers or if you do not live locally, you can post the piece to our London jewellery repair centre.
Please post to us any enamel item that needs repairing, refurbishing or re-enamelling.
We tackle many enamel repair jobs that other jewellers will not attempt to re-enamel or renovate.
So If you think that your enamel ring, enamel brooch, enamel box or enamel watch cannot be improved or repaired - Try us for a free enamel estimate!
Enamelling new Jewellery
When a new ring or a piece of jewellery requires enamelling, or a jewellery project needs to be more appealing, Jewellery enamelling can really make a difference!
We use both vitreous enamels and epoxy resin enamels (often referred to as cold enamel).
These two types of enamel offer the ability to create impressive and distinctive enamelled jewellery.
Vitreous enamel is glass bonded by heat to a metal surface such as gold, silver, and platinum.
Epoxy Enamelling Resin (cold enamel) gives a wide selection of effects without the need for a kiln. This can be achieved on silver or copper etc. The resins cure to a hard shiny surface finish, avoiding the need to polish finish. Cold enamelling for an enamel finish in transparent, opaque, metallic and sparkle finishes
Our jewellery workshop for enamel Repair opening times:
Our enamelling department is open Monday to Friday.
We are closed at Weekends and Bank Holidays.
For Jewellery Enamelling repairs by post- Please download "a repair by post" form
La Scala Designer Jewellery Boutique
Our Hatton Garden Workshop