Finest Jewellery Repair London - Jewellery restoration London - Antique Jewellery Repairs London - Vintage Jewellery Repair
Our Office and London Jewellery Repairs workshop are open Monday to Friday.
Customers who wish to have their Jewellery restored, repaired or rings sized and pearls beads re-strung etc.
Our Jewellery workshop is open from 11:00 am to 4:00 pm Monday to Friday by Appointment only.

All visits are By APPOINTMENT ONLY.

Please telephone us at 020 7405 1536 to book your appointment for your Jewellery repair or jewellery collection.

We are delighted to receive incoming Jewellery repairs and ring sizing by post or courier, too.
If you wish to send your jewellery repairs to us by post Please download our Postal Jewellery Repairs form, Here
However, we cannot give generic timelines for incoming jewellery repairs.
Jewellery Repair Workshop London offering outstanding Service, Historic Experience & Craftsmanship for almost 150 years.
Hatton Garden Jewellery Workshop - The Home of Jewellery Repair and Restoration Since 1875. Our Jewellery Repairs Workshop provides a nationwide jewellery repair service, ring resizing ring repair service, jewellery polishing and cleaning for London & the UK - England, Wales, Scotland, Northern Ireland, Eire, Europe & Worldwide..
Please visit our Jewellery Workshop in the historic cobbled Yard. 7 Bleeding Heart Yard.
Antique jewellery repair refers to the process of restoring and maintaining vintage or old jewellery pieces, typically those that are at least 100 years old or more. Antique jewellery holds historical and sentimental value, making proper repair and restoration essential to preserve its integrity and aesthetic appeal. The process involves several steps and techniques to ensure the piece retains its original beauty while addressing any damage or wear it may have acquired over time.
Here are the typical steps involved in antique jewellery repair:
Assessment: The first step is to carefully assess the piece's condition. Our skilled jewellery workshop will examine the item to identify any damage, missing parts, loose stones, and overall wear and tear.
Cleaning: Before beginning any repairs, the jewellery is thoroughly cleaned to remove dirt, grime, and any tarnish that may have accumulated over the years. This process is done gently to avoid causing further damage.
Stone Inspection: If the antique jewellery contains gemstones, each stone is checked for damage or looseness. If necessary, the stones may be re-tightened or replaced with period-appropriate gems to maintain the piece's authenticity.
Metalwork: The metal components of the jewellery, such as the setting, clasp, or prongs, are carefully inspected for any signs of wear or damage. Our Goldsmith may re-tighten or rebuild these elements to ensure the stones are securely held in place.
Soldering: If the Jewellery has broken or weakened parts, soldering is used to fuse the metal pieces back together. Special care is taken to match the original design and patina, ensuring the repair remains inconspicuous.
Replication of Missing Parts: In some cases, missing parts or elements of the antique Jewellery cannot be salvaged. In such situations, our workshop may replicate the missing pieces using traditional techniques and materials to match the original design.
Polishing and Finishing: Once all repairs are completed, the Jewellery is carefully polished to restore its shine and lustre. However, excessive polishing is avoided to preserve the item's vintage appearance.
Preservation: To prevent future damage and preserve the restored antique Jewellery, the owner is often advised on proper care and maintenance practices.
It's crucial to entrust the repair of antique jewellery to experienced professionals who specialize in this field. Antique pieces require a delicate touch and a deep understanding of historical Jewellery-making techniques. Improper repairs can diminish the item's value and historical significance, so choosing a reputable and knowledgeable jewellery workshop is essential.
Our in-house Goldsmiths and Silversmiths in our historic London jewellery repairs workshop have been located in Hatton Garden London since the 1920s, previously in Birmingham and Clerkenwell from 1875. Our Jewellery Repair Workshop London for Repairing jewellery, mending jewellery, restoring vintage rings, old-cut diamonds repairing antique jewellery, restoring jewellery, restoring antique jewels, servicing jewellery and fixing old jewellery. Soldering gold repairs. Silver Repairs, Restoration & Re-Plating. Silver soldering and platinum soldering repair. First Class London Ring Sizing and Ring resizing London and ring alterations too. We can restore and fix a worn ring and antique ring repair. Our London goldsmiths repair antique jewellery and preloved jewellery. Setting the standard since 1875 our Hatton Garden diamond polisher can repair damaged diamonds or have chipped diamonds repaired, our lapidary will repolish chipped gemstones.
Jewellery Repairs Hatton Garden London and Jewellery Restoration Services London. Hatton Garden Jewellery Repair Centre. Antique Jewellery Repairs London

.
As London wholesale jewellery repairers, our jewellery repairs shop embraces many types of jewellery repairs & jewellery alteration, jewellery restoration and custom jewellery design work. Speedy ring sizing service, ring re-sizing service and diamond remounting in our London jewellery workshop and London's jewellery repair centre.
We specialize in remounting diamonds and precious gemstones into new ring mount & mountings, pendants, earrings & necklaces.
We offer a unique bespoke jewellery repair service. Laser repairs Jewellery Laser Repairing London.
Our efficient repair department is staffed with expert Goldsmiths who will evaluate the work that needs to be completed and explain the entire process. No jewellery repair job is too big or too small. Our skilled jewellers are eager to take on any challenge that your jewellery needs may present.
You and your jewellery are most important, so please allow us to be of service to you. Our goldsmith's repairs are really outstanding!
Londres reparación de joyería. Réparation de bijoux London. Schmuckreparatur London. Naprawy biżuterii London. Riparazione di gioielli London. ювелирные изделия ремонт Лондон. ювелірні вироби ремонт Лондон. Ремонт на бижута в Лондон. 珠寶修理倫敦. Sieraden reparatie Londen. Reparatii bijuterii Londra. Jocalia instaurabo London.
There is no minimum charge.

Our Hatton Garden Workshop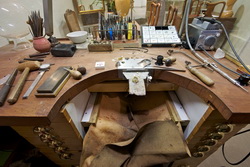 Our Lapidary polisher polishing gemstones London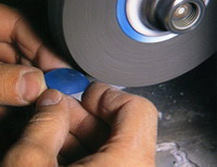 Kodachrome Vintage Photos
Before & After Jewellery Repairs: