Ring sizing, Ring Resizing Hatton Garden London
Ring Size, Ring Sizing London Hatton Garden Ring Resizing London UK
Ring resizing Hatton Garden London in our Jewellery Repair Workshop:
Ring Size - We can sometimes provide a fast ring sizing & ring resizing service, subject to examining the ring, in our onsite jewellery workshop in London.
London ring resizing service or urgent sizing may be possible depending on the dynamics of the ring, the age of the ring and subject to inspecting the ring.
However, currently, all timelines for ring sizing need to be assessed once the ring has been examined by our workshop.
Urgent ring sizing jobs, or ring sizing London ring re-sizing. Expert antique ring resizing, ring alteration, ring adjustment, ring enlarging, ring reducing. laser ring sizing, ring compressing, ring compression. ring correction. Platinum ring compressing, Gold ring compressing. resizing wedding bands and sizing engagement rings in London. Upsizing rings. Downsizing rings. We are recommended jewellers for resizing.
How to reduce ring size or tighten the ring? How do I get a wedding band tightened - Visit our ring sizing jewellery workshop at Hatton Garden for ring increasing, ring reduction, ring size reduction. If your band is too loose or your Band too tight. Is the ring too loose? Or the ring is too tight.
London Ring resizing - Platinum Ring Sizing Gold sizing. Resize a ring & silver ring resizing, silver ring sizing, palladium sizing, palladium ring resizing & platinum ring enlargements. Platinum rings resized. Platinum ring alteration and size adjustment & alteration of silver rings, altering gold rings..
Various other non-precious metals such as brass and copper can be sized and expanded except for steel, cobalt and titanium sizing.
Ring sizing Hatton Garden London UK we can size your ring or adjust rings. All ring alterations are undertaken. We can have old rings sized re-sized and looking as good as new. Specialist ring sizing reducing techniques and ring size enlarging London.
Our expertise extends to quality diamond ring resizing too, We can resize your own gemstone rings. We can resize your old antique family rings, resize wedding rings. resizing wedding bands. Do you need your engagement ring resizing? We resize engagement rings and diamond set rings, whether yellow gold, white gold, pink gold, or rose gold. 18-carat gold rings, 18ct white gold rings, 18k yellow gold, 18K white, Karat 750, 22-carat, 9ct gold rings, 375 rings, 14-carat gold rings 14k rings, 10K rings, silver ring resizing, palladium resizing rings, Platinum ring resizing engagement rings sizing, Adjusting engagement rings resizing antique diamond rings, resize second-hand rings, re-size antique rings and vintage rings sizing. We resize Victorian rings & Edwardian rings. We size engagement rings, we size wedding rings, wedding ring enlargement and wedding ring reduction & compression. Our on-site London workshop re-sizes antique rings size & adjust estate rings to fit properly. Laser soldering, laser resizing rings, laser gold soldering, platinum soldering, platinum laser sizing.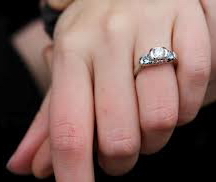 We are Resize 18ct gold rings experts. We are skilled in platinum ring resize work. Expanding, resizing ladies' rings and sizing men's rings, resizing gold rings London. Making rings bigger or making rings smaller.
Our London EC1 workshop can deal with the most intricate ring sizing and tricky ring resizing. We can size complex rings and complicated wedding bands with our refined laser techniques. Laser ring sizing and laser alterations.
We can also replace the shank or band if it is weak or worn out. Shanks - It is maybe necessary to replace the shank of a ring or the ring band when there has been excessive wear or damage to the band or the complete shank including the shoulder is worn or damaged. This involves removing the worn or damaged section and then soldering or lasering a new piece into the ring. Shanks are also replaced if the ring shank is too thin or when a client customer wishes to change the colour of the metal from yellow gold to white gold. Replacement 18ct Gold shanks and 18ct bands. Replacing Platinum shanks and bands, 9ct Gold bands 14ct Gold rings, Replacing Sterling Silver bands. Replacement ring shanks and new half shanks 18 carat and half shanks 9 carat.
Your old broken ring can be restored and "look like new" using traditional skills.
Take advantage of our Postal Ring sizing service by post. If your ring does not fit, we will resize it! We are the finest jewellery workshop for sizing and ring adjustment!
Even if you have had a ring cut off your finger, we can repair it. Size matters! We can occasionally remove a ring that is stuck on a finger. However, please call ahead for the availability of this service, we can fix the ring and have the ring repaired for you.
Ring sizing work - Ring resizing costs, Sizing costs - How much? How long? Immediate estimates, costs and timelines.
How much will The ring sizing cost? What is the cost of ring sizing? How long will the ring sizing take? How many sizes can a ring be sized down? How many sizes can a ring be sized up?
This depends on the type of ring and metal and what work is required.
We understand the importance of getting the ring size right and your ring perfectly fitted and adjusted. So phrases like "my ring is too big" or "my ring is too small" are easy for us to deal with. Ring sizing London.
Bring your ring to us and we will give you a FREE estimate and a timeline to resize your ring while you wait for the cost of ring enlarging or ring reduction.
How do you find out your ring size? The easiest and most accurate way to find your ring size is to have your finger measured by one of our friendly and professional goldsmiths.
We use an industry-standard ring sizer, which is a selection of metal rings in all different ring sizes. UK ring sizes, US Ring sizes, European ring sizes, Metric sizes
Using the ring sizer we measure the finger & quickly ascertain your ring size.
To find your ring size please Download this ring size chart. This ring size conversion chart will help you choose the correct size for ring alteration and to "Find my ring size".

To help you alter ring or ring enlarging size ring enlargement, making the ring bigger, make the ring larger or make the ring smaller.
Please click here for Ring sizing details if you are unsure of your ring size.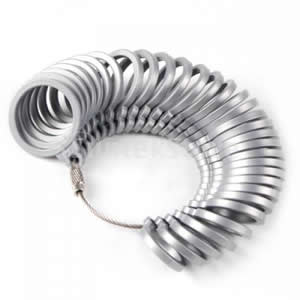 Choosing the exact ring size can sometimes be a difficult process as your finger may vary by size or so at different times during the day. To make the process of choosing the best ring size for you as easy as possible we would like to offer you our complimentary ring sizing gauge that allows you to find the perfect ring size in the comfort of your own home.
To receive your ring size gauge all you have to do is enter your name and address here to request our free Ring sizer.
Only highly skilled and experienced goldsmiths & jewellers are qualified to repair vintage rings antique ring repair or restore vintage rings including renewing ring shanks and renewing ring bands. Our jewellery workshop was established in 1875, making us jewellery specialist ring restorers since our craftsmanship is to the highest of standards. Ring repairs London.
Our goldsmiths are able to undertake complicated work. We can fix rings, and repair or resize rings that were previously unrepairable or impossible to size, including the most intricate restoration of family heirlooms. Including enlarging or reducing rings by 2 or 3 sizes, 4 sizes, 5 sizes, 6 sizes or more.
We also use state-of-the-art micro laser welders, and precision soldering for specialist repair.
Please call or email us for a possible timeline ring resize for your ring.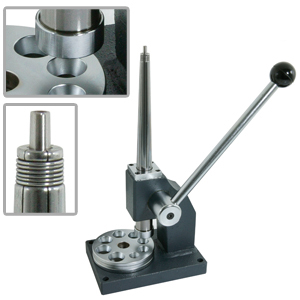 Ring resizing in-house and ring sizing by post. If you need your ring adjusted or your ring resized but do not have time to go to your local jewellers or if you do not live locally, you can post to our London jewellery repair centre any ring that needs resizing. Ring Reduction and ring enlargement. Gold, Silver, Palladium and Platinum sizing. If you need to measure your ring size we have developed an in-house guide for you. Find your ring size with our ring size guide and helpful tips on measuring your ring size,
You can send by post your ring adjustments and ring sizing job from anywhere within the UK and London.
RING SIZING BY POST-RING SIZING UK
Online ring resizing service. We provide a nationwide ring resizing ring repair service for all of the UK - England, Wales, Scotland and Northern Ireland.
Platinum ring resizing, gold ring resizing, wedding ring resizing, engagement ring resizing, vintage rings, silver ring sizing by post.
Posting your parcel Special Delivery is the most securest way of ensuring the delivery of your rings.
Ring resizing by post. Ring sizing by post. Ring alteration by post. Sent back to your home by Special Delivery- Please Click here to download a form.
We tackle many ring sizing jobs and urgent ring resizing, urgent sizing that other jewellers will not attempt to size. So If you think that your ring cannot be sized - Try us for a free estimate Hatton garden ring resizing London while you wait.
There are several ways to check your ring size before you buy that perfect ring. The most accurate is to visit our London jewellery workshop, where we can measure your finger exactly. Your ring should fit your finger comfortably, it should be snug enough so that it will not fall off, but easy enough to slide over your knuckle. So the easiest way of tackling your ring sizing is by speaking to us. We are always on hand to discuss any ring-sizing questions you may have.
You can contact our ring sizing helpline on 0207 405 1536 Monday to Friday.
However, you may want to measure your ring at home.
In this case, please visit us and pick up our free easy ring sizers. and simply measure the finger which you are needing a ring for.

Ring sizing advice.
Make sure you can get the ring over your knuckle. Ensure you measure a ring size that goes over your knuckle snugly, and will sit comfortably at the base of your finger.
Temperature affects sizing- Temperature, humidity, and exercise can affect the size of your fingers. Many people find rings that fit easily during the winter months, are too small in summer due to swelling of the fingers in the heat. We recommend you measure your finger at room temperature, and if you are prone to swelling, have the ring half size larger
Right and left hands are different
The hand you use to write with will often require larger ring sizes. Do not assume finger sizes are the same on both hands.
Heavy rings and spinning
For most rings, you need to ensure you can get your ring over your knuckle. But for rings that have heavy tops, this will often mean they "spin" on your finger because your finger is smaller at the base than at the knuckle. You will need to choose a size that balances the need for getting it on and off, and avoiding spinning.
Wide bands require a larger size
For bands that are wider than 10mm, you should consider getting a half or one size up (depending upon the width) as it will be more comfortable to wear.
Getting tight rings on and off
Liquid hand soap is the best lubricant for getting tight rings on and off. Just rub a little soap over your knuckle and the ring will slide off effortlessly.
Assay Office Mark - There are now four Britsh Assay Offices
Please Click on each one below for some more information.
London, Birmingham, Sheffield, Edinburgh
Jewellery Repairs London is a resizing partner of ICONIC. https://iconicjewelry.com/
Carat (purity)
The carat or karat (symbol: K or kt) is a unit of purity for gold alloys.
Carat purity is measured as 24 times the purity by mass:
24-Carat gold is fine (actually 99.9% Au w/w rather than 100%), 18-Carat gold is 18 parts gold 6 parts another metal (forming an alloy with 75% gold), 12-Carat gold is 12 parts gold (12 parts another metal), and so forth.
In England, the carat was pisible into four grains, and the grain was pisible into four quarts. For example, a gold alloy of fineness (that is, 99.2% purity) could have been described as being 23-carat, 3-grain, 1-quart gold.
The Carat system is increasingly being complemented or superseded by the millesimal fineness system, in which the purity of precious metals is denoted by parts per thousand of pure metal in the alloy; e.g. 18-carat gold, 75% Au, would be called 750.
"Karat" is a variant of "carat". First attested in English in the mid-15th century, the word "carat" came from Middle French carat, in turn from Italian carato, which came from Arabic qīrāṭ (قيراط), which came from Greek kerátion (κεράτιον) meaning carob seed (literally "small horn")(diminutive of κέρας - keras, "horn" and was a unit of weight though it was not likely used to measure gold in classical times.
In 309 CE, Roman Emperor Constantine I began to mint a new gold coin solidus that was 1⁄72 of a libra (Roman pound) of gold equal to a mass of 24 siliqua, where each siliqua (or carat) was 1⁄1728 of a libra. This is believed to be the origin of the value of the karat.
22/22K - a quality mark indicating the purity of gold most popularly used in India. This purity was adapted and practised by the big jewellers and was later passed to jewel smiths. The first 22 signifies the "Skin purity", the purity of the top layer of the gold jewelry, and the second 22 signifies that after melting purity of the gold jewellery will be 22-karat, or 91.67% of pure gold. This system is used to show consistency in the quality of the gold.
The Princess of Wales (Kate Middleton) had Princess Diana's engagement ring resized because it was too loose on her finger. The sapphire and diamond ring was famously worn by the late Diana, Princess of Wales, and given to Miss Middleton by Prince William when he proposed on holiday. The ring has had two tiny platinum beads attached to the inside of the ring in order to make the ring tighter on her finger. Kate Middleton decided to make the ring alteration because she was worried that it might fall off during the wedding ceremony. Our goldsmiths can solder such gold or platinum balls inside your own ring band. These small balls are used to prevent the ring from twisting around on the finger for clients whose fingers are wider at the knuckles than at the base. If the ring does not fit absolutely perfectly, this can be annoying as well as uncomfortable. This is why fixing platinum or gold beads on the inside of a ring is such a good idea because it just keeps the ring in place when there is no need to adjust or resize the band.
Our Hatton Garden Workshop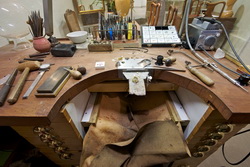 Our Lapidary polisher polishing gemstones London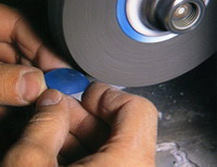 Kodachrome Vintage Photos
Before & After Jewellery Repairs: