Earring Repair & Replacement
Earring Repairs London Hatton Garden London UK
Earring repair and earring replacement. Ear stud Repair.
Have you lost one of your favourite earrings and would love to be replaced?
Do your earrings need to be repaired or do your earrings need to be replaced?
Do you require a lost earring Replica or missing earring to be replicated?
Has the earring come away from the post or clip?
Has the earring post broken or the earring clip broken?
Have you lost an earring and need a duplicate made to match the remaining earring?.
If an earring has been lost, a duplicate earring can be made to match the existing earring.
If a gemstone or diamond has been lost or fallen out of one of your earrings, this can be replaced. We can supply a match to the remaining earring and reset the stone securely.
Has an earring broken away from the post or clip? We remake many styles of earrings, ear studs, ear hoops, creole earrings, clip-on earrings and drop earrings.
Earrings - There are many types and styles of earrings including stud earrings, drop earrings, creoles earrings, sleeper earrings, clip-on earrings. These earrings have many different kinds of fittings. Generally, it is the earring fitting that fails, breaks, or wears out. If you have lost an earring we can create a duplicate earring to match in our jewellery workshop. We can adapt earrings, change clip earrings to pierced earrings, and studs to clips. clip earrings to pierced and pierced earrings to clips and adapting drop earrings to studs. Earring repair for gold, white gold, silver, platinum, and palladium.

Stud earrings repair - The stem can break away from the earring and depend on whether or not it is stone set, these can either be repaired or replaced. Repair broken pearl stud earrings. Repair broken earstuds. Repair broken Earring posts.
Drop earrings repair - The weak area are the links that form the drop of the earring. The links can wear out. Even if the earrings are diamond set or gemstone stone set, we may be able to repair the links, rebuild the links or replace the links. If one link is worn or broken it is likely that the other links are worn. These links will need to be replaced, rebuilt, or resoldered.
Creole earrings repair- There are several elements on the creole that can fail or break, the earring clip the hinge, the rivets or the ear wire. These fittings can be repaired or replaced.
Screw on EarStuds repair - The screw thread or the screw on the butterfly can wear out. If it has worn, it needs to be replaced. If the stem has broken off but is not worn, It can be resoldered. We can replace the post for Screw-on fittings to any stud earring for extra security. Screw back fittings supplied.
Clip-On earrings repair- The earring clip can loosen or become detached from the earring. It may be possible to tighten the clip. however, sometimes it is necessary to replace the clip. Generally, both clips may need replacing so that they both match.
Earring Back Replacement - Earring backs or earring butterflies need to be comfortable and be well secured to the ear. There are several different styles of post-backs and butterflies as well as French hooks. We can supply them in various sizes to fit the earring posts, backs or earrings sc We have the resources and experience to make your earrings wearable. It is important that the earring back properly supports the weight of the earring. Precious metals such as gold, silver, and platinum are typically hypoallergenic. If your irritation persists, let us evaluate the earrings and provide you with several options to alleviate allergic reactions.
We can supply and source the following:
Alpa Ear Fitting, Domed Spring Back, Omega Earclips, Hookwires in a variety of designs including Safety Wires. Leverbacks are either open or interchangeable rings. Post fittings or peg fittings with ball and ring, cup, or stud. Beading Hoops and Chandelier Fittings. Scrolls or Butterfly Backs. 18ct White Threaded French Wire & scroll. Supplied in Sterling Silver, 18ct gold yellow and 18ct white gold, 9ct gold yellow gold and white gold, Platinum.

Earring repairs Hatton Garden London UK.
Earring replacement - Lost earring replacing. We can replace a lost earring, or create a new matching earring. In the case of a pair of earrings in which one of the earrings has been lost, a replacement earring is relatively simple, by duplicating the remaining earring. This option may be preferable if there is sentimental value is attached to the pair of earrings. Similar replacement is preferable if part of the earring is lost, but a significant portion of the earring remains intact. For example, a replacement stone can be mounted into the remaining earring setting. A new setting can be manufactured by reproducing the remaining earring. Broken pearl stud earrings - how to repair them? please visit us. If The cup and stem detach themselves from a pearl, please just pop in with the earrings for a quick repair.
We can convert pierced Earrings to Clip earrings, Create Clip Earrings, Repair Broken Earring Clips, Convert Clip Earrings to Pierced Earrings, Repair Broken Earring Posts, We Create Pierced Earrings, Earring Back Replacements. Match lost pearls, gemstone and diamonds for earrings. How do you repair broken stud earrings - Bring your earrings to our in-house jewelry workshop for an estimate. How much? How long will the repair take? Immediate estimates for earring repair while you wait, earring repair costs and timelines.
The above earrings on the right are Rose Quartz earrings, Amethyst, earrings Citrine earrings, Briolette Smokey Quartz earrings, Peridot earrings, White Agate earrings, Blue Topaz Earrings, Smokey Quartz earrings. Our London jewellery workshop Hatton Garden for Earring repair London.
Opening times:
We are open Monday to Friday for earring repairs.
We are closed on Weekends and Bank Holidays.
Tel: + 44 (0)20 7405 1536
Our Hatton Garden Workshop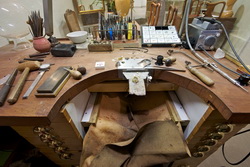 Our Lapidary polisher polishing gemstones London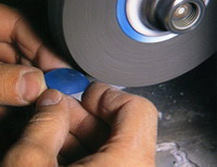 Kodachrome Vintage Photos
Before & After Jewellery Repairs: