Jewellery Polishing London Cleaning & Plating
Jewellery Cleaning London, Ring & Jewellery Polishing London Hatton Garden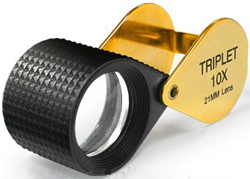 Since 1875 Our family jewellery company have been the very best and one the most established in Jewellery polishing, jewellery finishing, jewellery cleaning London ring cleaning.
London Jewellery Cleaning. Bring back the sparkle to your rings and jewellery with our jewellery cleaning service Hatton Garden London UK.
We specialise in jewellery polishing, jewellery finishing, rhodium plating, gold plating and silver plating. Ring polishing, ring refinishing, sandblasting, satin finishing.
In Hatton Garden London, jewellery cleaning, rhodium plating ring gold plating, micro plating, Black rhodium plating, Silver plating.
Jewellery Gilding Ring cleaning, Ultrasonic cleaning, Machine polishing, Gold polishing, Platinum polishing, Palladium polishing, Silver polishing, Ring polishing & rings rhodium plated. Rhodium plating white gold in London jewellery care.
Our on-site Hatton Garden Polishing workshop use specialist cleaning tools and techniques for use on different metals and stones to restore & refurbish your jewellery.
We can renew your jewellery's dazzle and your ring's shine and sparkle with our expert jewellery and ring cleaning and polishing service.
Everyday activities can dull your rings and jewellery. Stone set and diamond jewellery need cleaning. Dirt caught under a stone is tricky to remove without our expert help. We use Ultrasonic cleaning – to remove dirt and steam cleaning to bring back the sparkle in your diamonds and precious stones. Jewellery gets scratched and scuffed from everyday wear, however, we can polish rings and jewellery to a smooth shine. Buffing and polishing surface scratches. With our proper jewellery care, your rings jewellery will look good for lifetime wear. We take care of your jewellery and give your jewellery a new lease of life. Our cleaning, buffing and polishing are totally safe for your treasured jewels. Whether you have a white gold ring to be replated or cleaned, try our rhodium plating service too.
Jewellery Cleaning Service, Jewellery polishing service. We polish and re-finish all types of fine jewellery. We polish rings, diamond rings and earrings, pendants, chains, bangles, brooches, bracelets, watches.
We can prepare, polish, repolish or finish any type of jewellery depending on our customers' requirements. We offer a finishing service for tarnished jewellery, worn rings, scratched rings and jewellery to bring your jewellery back up to showroom condition.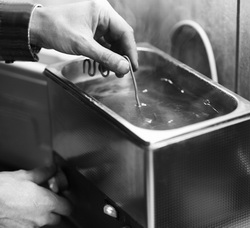 We are often asked the following questions:
How much does it cost to re-polish a ring?
How do you polish a silver ring.?
How much to polish a platinum wedding band?
How do I re-polish my scratched engagement ring?
Please call us about our same-day jewellery cleaning service London Hatton Garden.
How to clean a platinum engagement ring? How to clean your diamond ring. Please do not struggle to keep your diamond engagement ring clean, Bring the ring to us. it will be cleaned and polished and will be looking sparkling again within the day. We offer a complimentary cleaning service for any ring that is repaired or resized by us.
We can make your jewellery shine and sparkle again. Buffing and Polishing out surface scratches and Steam Cleaning for stone cleaning. Intensive cleaning behind metalwork and underneath the stones.
Poor self-cleaning and polishing can damage your jewellery, so please leave it to the experts for jewellery refurbishing and jewellery polishing. We are located In Hatton Garden close to the City of London EC1, we polish gold, platinum, silver and palladium & other metals.
We can also apply various finishes to precious metals including sandblasting and satin finishes.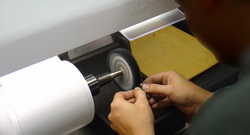 Our Jewellery Polishing Service allows your ring or jewellery to rediscover its original shine and brilliance, without altering its dynamics. However, because there is the removal of a fine layer of metal to obtain a shiny surface we recommend that this service is not carried out too often. Polishing cannot remove any scratches that are too deep.
Performed by our specialist polisher, the Polishing Service includes the following elements:
Your item of jewellery is analysed it is then polished, using brushes saturated with abrasive polishing pastes until a dazzling surface is obtained;
The piece of jewellery is cleaned, particularly in its less accessible parts, by immersing the jewel in an ultrasonic tank filled with Luke- warm soapy water. All jewellery may be subjected to ultrasound cleaning, except for jewellery that contains emeralds, pearls and certain other gems that are considered delicate. Our services include Hard Gold plating Silver Plating, Jewellery Gilding Ring Rhodium plating. Jewellery rhodium plating rings rhodium. Black rhodium too.
Jewellery Plating City Gold Plating Jewellery cleaning and jewellery refurbishing. Jewellery finishing, Jewellery gold plating, jewellery dipping, Gilding, Ring cleaning, Ring polishing, ring refurbishment & rings rhodium plated. Engagement rings cleaned and polished. Gold rings polished, platinum rings repolished silver rings London.
Jewellery Care. There are several things that one can do to prevent a build-up of dirt and prevent jewellery from becoming tarnished. Clean jewellery using warm water, mild soap and a soft-bristle toothbrush. Use a non-abrasive silver cloth or soft lint-free cloth to polish jewellery and remove tarnishing. Please Do not expose jewellery to harsh chemicals or perfumes as this could cause damage and discolouration. Do not wear jewellery when using household cleansers. Try to avoid spraying jewellery with beauty products such as hair spray, cosmetics or perfume as this can tarnish or discolour the jewellery.
Do check for signs of wear and tear regularly, especially on catches and joints. Diamond and gem Stone settings can become loose over time, especially if they have been hit against a hard surface or snagged on clothing.
Visit us to get a free estimate. An inspection takes just a few minutes and will be carried out while you wait.
Jewellery cleaning by post, jewellery polishing by post for all jewellery polishing and jewellery cleaning, ring polishing and ring cleaning including Rhodium Plating your White Gold Jewellery, Rhodium plating your white gold rings including polishing. Ruthenium plating.
Download our Jewellery Polishing by post - Jewellery by post form.
Our onsite Hatton Garden London jewellery workshop
For Jewellery polishing and Ring Polishing opening times:
We are open Monday to Friday.
We are closed Weekends and Bank Holidays.
La Scala Designer Jewellery Boutique online
Our Hatton Garden Workshop