Jewellery Replating Rhodium Plating
Jewellery Plating London Ring Rhodium Plating Gilding Silver Plating Electroplating Gold plating
In Hatton Garden London, Jewellery replating, jewellery plating, ring replating, ring plating, gold plating and silver plating London UK. We can replate and restore worn & faded jewellery, tarnished rings and jewellery, dull rings, dull jewellery, replate rings, chains, bracelets, brooches and watches. Ring Rhodium plating service London - Rhodium rings and Rhodium jewellery. Has your white gold jewellery or white gold lost its gleam? Your jewellery can all be brought back to life. We give a new appearance to your most treasured jewels. We can repolish and rhodium plate your engagement ring, replate a diamond ring, restoring the ring to its sparkling glory. We take absolute care to make sure that the restorations are as professional as possible. We then highly polish the surface ready to accept the new plating. Rhodium finishing, Re-rhodium white gold, white gold plating, rhodium, re-plating, jewellery dipping, rose gold plating, ring dipping yellow gold dipping, white gold dipping, replating white gold rings re-rhodium London UK. Our state of the art Ultrasonic cleaner removes grime and dirt from stone set jewellery and our high-precision steam cleaner brings back the appearance and sparkle to your diamonds, gems, precious gemstones and metal.
Rhodium plating White Gold Refinishing, Ring dipping: Rhodium Plating. Has your white gold ring lost its sparkle? Has your white gold jewellery lost its glitz?
Jewellery made from white gold discolours over time. Once white gold is Re-rhodium plated the white metal will restore its elegance shine and sparkle. Have your rings re-dipped and rhodium plated.
Jewellery Finishing: We can offer a finishing service to tarnished jewellery or rings, to bring them back up to a showroom condition or looking like new. Gold dipping. jewellery re-dipped
Black Rhodium plating: Black rhodium gives a grey-black finish and is a striking alternative to normal rhodium plating. Rhodium is from the platinum family and shares many of its unique characteristics.
Gilding: We offer an 18ct and 9ct gilding service. Gilding is a decorative gold plate to enhance pieces of gold, silver or base metal pieces,
Gold Plating London: We offer a hard gold plating service to silver, gold and some base metal products. Hard gold plating up to 10 microns. Gold plating on a variety of jewellery: gold plating rings, cufflinks, earrings, necklaces, bracelets, etc. We can also create 9ct, 18ct gold plating, or Rose Gold plating.
Ruthenium plating: This is the latest inclusion to our metal plating operations. Characterized by its "high-tech" grey-black look, Ruthenium plating has attracted a great deal of interest due to its unique finish qualities. It has exceptional hardness and is highly resistant to scratches and incidental abrasion. Ruthenium finishes are very stable and offer very good resistance to surface oxidation and discolouring.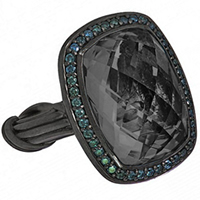 Black Rhodium plating is a truly brilliant black deposit, compared to the anthracite to steel grey of black ruthenium plating. Black Rhodium has a denser colour, and has a higher wear resistance. It has good chemical resistance especially to alkali cleaners.
We provide many different types of silver plating services for small silver pieces and large silver pieces. Silver dipping, Silver plating to the fashion jewellery industry as well.
We use fine silver during our silver electroplating process. We can finish any piece in a matt finish, high gloss finish, satin finish or antique finish. We undertake high-quality silver repair, silver restoration and general cleaning of silver.
We use state-of-the-art micro laser welders, precision soldering and specialist electro-plating techniques to ensure your jewellery looks as good as possible.
Electroplating is a method to put a metal coating onto an object, in our case a piece of jewellery, by placing it in a solution containing the metal to be plated and passing an electrical current through the piece and the solution. It is possible to electroplate coatings of most pure metals and even some alloys. In this paper, we shall concentrate on the electroplating of gold and gold alloys and rhodium – one of the platinum groups of metals with good white colour and tarnish resistance – for decorative applications. Electroplating is a comparatively quick and easy process to carry out and does not require major investment in costly equipment. It can be done successfully with very simple, basic equipment. Finished carat gold jewellery may be electroplated with gold for several reasons:
1. electroplating carat gold jewellery with pure 24ct gold to impart a richer gold colour.
2. electroplating with carat or pure gold to give a more uniform colour, hiding variations in the colour of the component parts and solder lines.
3. electroplating to give a different desired colour; a wide range of colours can be achieved by co-depositing gold with other metals.
4. electroplating to hide surface defects or to improve properties. In addition, there are other uses for gold electroplating, viz:
5. electroplating base metal or silver items with gold to obtain a gold appearance as in fashion jewellery and gilt silver.
Rhodium Plating London.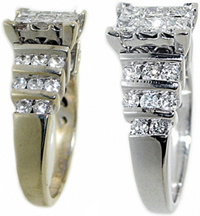 Rhodium is often used to give a good white colour to white gold rings or white gold jewellery (which is often not a good white colour) or is used selectively on yellow gold jewellery to give local areas of whiteness, often around gemstone settings, and also to plate. Rhodium is a brilliant white metal that is part of the platinum family. When rhodium is often applied to white gold, it is this rhodium brilliant white colour that you can see. Unfortunately, when this plating wears off, you will see the true colour of your ring below the plating. The majority of white gold rings and jewellery are enhanced and plated with rhodium plating, giving a really reflective white surface. Over time, this surface may lose some brightness as the plating wears off. This is perfectly normal. So if you want a highly reflective white surface, Rhodium plating will give a brilliant shine. However, through wear, the surface will wear away and become dull. We can restore your jewellery to look like new again – repolishing and rhodium replating, re-dipping will give your white gold rings and jewellery a mirror-like finish.
Before and after rhodium plating a ring is shown in the image above.
When one buys a new 18-carat (18k, 750) white gold ring, you are most unlikely to be LOOKING at 18ct white gold! What you are looking at is Rhodium - a bright, hard chromium-coloured plating used to cover the dull, greyish/yellowish 18 ct white gold that is underneath. This is normal practice in the jewellery trade! After a few years, the plating wears off the outside of the ring.
Our jewellery workshop offers a complete rhodium plating service.
Our London rhodium plating service generally takes a day or two. This will result in your ring or white gold jewellery being restored to look as good as new. We first polish your ring or jewellery to remove all scratches and traces of the old rhodium plating.
Once these have been removed, your item of jewellery will be polished to a beautifully brilliant shine. After the polish has been completed, we then immerse the jewellery in to an electrolysis chemical cleaner. We then add the coat of rhodium plating restoring your jewellery to a gorgeous shine.
We use the latest formulated ultra-bright rhodium plating which is far superior to standard rhodium plating. We rhodium plate rings, rhodium earrings, pendants, rhodium plate necklaces, rhodium plate bracelets, rhodium chains, brooches, charms etc.
Precious Metal Electro Plating and Gold Plating
We are also Specialist brush plating & tank electroplaters. We offer a wide range of electroplating & finishing services for both the trade the private sector.
This includes gold plating in yellow gold, white gold, green & rose gold, rhodium, platinum, palladium, silver plating, white bronze, copper, nickel, decorative chrome plating & black chrome plating. Costume jewellery plating and gilding.
All our jewellery work is electroplated with durability for a long-lasting finish.
Our highly skilled craftsmen are specialists in restoring a wide range of items to their original glory by plating them in gold or silver.
We are hard gold plating specialists
A variety of textures for jewellery items such as satin finish, highly polished finish or matt finish.
Gold plating up to 10 microns
Silver plating up to 15 microns in thickness.
Two-tone plating on items such as earrings, bracelets,
9ct gold plating, 18ct gold plating and 24 gold plating.
Rose gold plating- pinkish gold.
Silver plating can be oxidised for an antique finish.
Plating on plastic. Plating smartphones, console covers, iPhone plating, tablet plating and iPad covers.
We Brush & Tank Plate Rings & Bracelets, Coins, Motorcycle & Scooter Parts, Musical Instruments, Trophies, Medals, Golf Items (Including golf clubs & golf balls) Car Parts, Car Accessories, Exhausts & Badges. Lighters, Keyrings, Wedding gifts, photo frames, Coins, Spectacle frames, Champagne wine buckets, cocktail shakers, bar equipment buckles, bracelets, chess sets.
Watch plating London
London watch replating, replating watch cases watch case backs, watch crowns, watch hands, watch bands, vintage watches, modern watches, watch parts, watch bracelet links, clocks & horological items.
Watch gold plating, silver plating, palladium plating and platinum plating of vintage and modern watches is a great way to renovate your watch if you have an old watch or a worn or scratched watch.
The process involves stripping and polishing the watch before electroplating a precious metal over the base metal.
Non-precious metals, such as nickel and chrome plating, are often used.
A wonderful way to restore your beloved watch whether it is antique, vintage, old and worn or scratched.
Gold plating is a typical electroplated finish.
We also electroplate watches etc. in silver, white gold and palladium.
Watch White gold plating is very fashionable. Platinum plating as well as palladium,
Bi-metal gold plating, watch bracelet links electroplated in yellow gold and white gold.
Watch case electroplating. Watch case and bezel in contrasting gold-plated finishes.
Watch Electroplating including; yellow gold, white gold, rose gold and green gold, platinum, palladium and silver.
Nickel plating for pocket watches and chains.
Our electroplating is hard-wearing and will give you years of pleasure and joy if the watch is looked after properly.
How to take care of gold-plated jewellery? How much does plating cost?
It is almost impossible for anybody to give an exact prediction of how many months or years or any time frame the plated surface will last.
It depends on a few important factors:
How the jewellery is worn. How much wear and tear the item will receive. The exposure that the jewellery is given. Jewellery exposure to chemicals direct or constant. Exposure to some chemicals such as solvent, hair spray, perfume or jewellery cleaning materials. Plating reaction to skin ph. Gold plated jewellery has become a vogue. However, the plating surface has a certain lifespan and requires proper care and maintenance to prolong its life. The plating on an item of jewellery that is subjected to wear or friction, such as a ring will not last as long as the plating on a necklace, brooch or earrings. This jewellery comes into less contact with skin or the elements or is worn less often so it will retain its plating for longer.
Therefore care must be taken with any plated article. Never polish the plating surface the item with harsh cleaners as the chemicals may damage or remove the plated surface.
The plating will last for a long time if looked after correctly
Once we have examined your ring, brooch, earring, bracelet or necklace, we shall be able to give you a cost for replating any item of jewellery.

Jewellery plating Ring Plating by Post Rhodium plating by post
A Full nationwide postal service for plating is offered.
Please do send us your rings and jewellery that need
Gold plating, Rhodium Plate your White Gold Jewellery.
Rhodium plate your white gold rings including polishing.
Our London jewellery workshop Hatton Garden for Ring plating, Rhodium plating, jewellery plating London, Silver plating London
opening times:
Our jewellery plating service is open Monday to Friday. by appointment only.
We are closed at Weekends and Bank Holidays.
Hirschfelds - Fine jewellery since 1875
Our Hatton Garden Workshop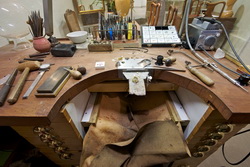 Our Lapidary polisher polishing gemstones London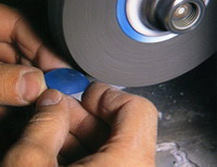 Kodachrome Vintage Photos
Before & After Jewellery Repairs: